Championing diversity in innovation and NHS systems
We work to ensure that the transformation of our health service reduces the health inequality gap – addressing deep-rooted structural disadvantages and ensuring we can better serve all communities.
We will achieve this by supporting diverse innovators with solutions, the spread of equality, diversity and inclusion (EDI) best practice, and shaping systems to ensure diverse voices are heard.
The Health Innovation Network's diversity pledges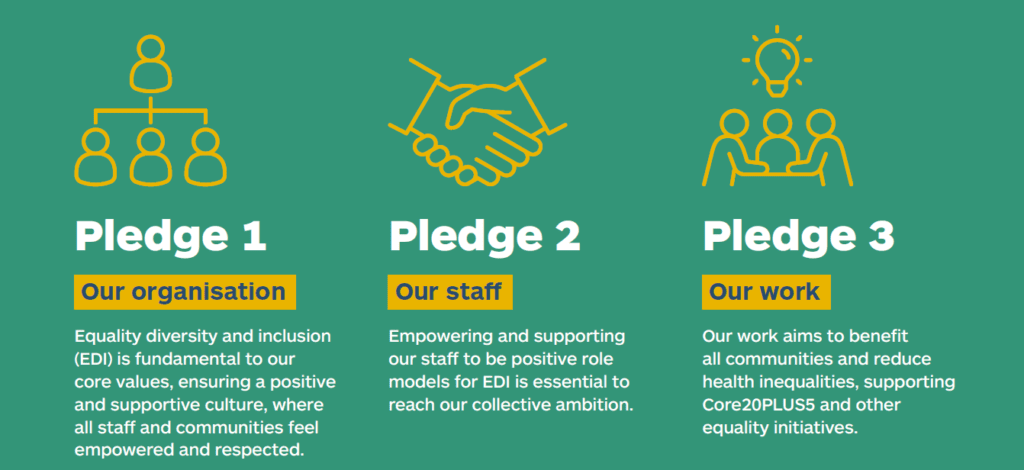 In September 2019, we signed up to a series of pledges. These pledges demonstrate our national commitment to fostering a diverse and inclusive culture through our work.
Most importantly, we're holding ourselves accountable to the way we identify and nurture innovations, and the innovators behind them.
The Health Innovation Network pledges, updated in June 2022, are based on the principles that:
EDI is fundamental to our core values, ensuring a positive and supportive culture, where all staff and communities feel empowered and respected
Empowering and supporting our staff to be positive role models for EDI is essential to reach our collective ambition
Our work aims to benefit all communities and reduce health inequalities, supporting Core20PLUS5 and other equality initiatives
'The work that we have done together over the last two years has undoubtedly had real impact on improving the way that we serve our patient and innovator communities. We have no intention of ending this journey of progress. But we now want to open the invitation to join us and create a movement that can be owned and progressed by the wider UK innovation and research communities.

Richard Stubbs, Vice Chair of the Health Innovation Network, Chief Executive Officer of Yorkshire and Humber AHSN, and Health Innovation Network Diversity and Inclusion group lead
Read more about why greater diversity in innovation is more important than ever in Richard Stubbs' blog.
You can find some examples of case studies and learning here, and read our update on progress: Diversity and innovation progress and learning report – reflecting on and continuing our mission.
NHS Innovation Accelerator
If you have an innovation that champions diversity and works to address health inequalities, you could benefit from the NHS Innovation Accelerator.